AMBOSS vs. UWorld: Which is a Better USMLE Resource?
17910 Views
As a board exam tutor, the first meeting I have with almost any new student involves a discussion of their study schedule and resources. During those sessions, I always ask students which resources they're planning to use to study for their specific board exam. Most of the time, my students answer that question with another question: "Which QBank do you think I should use? UWorld, or AMBOSS?"
The answer is: "it depends." It depends on how much you're willing to pay, and on what features you want from your chosen QBank. Let's look at each of those things in isolation to try and decide between AMBOSS vs. UWorld. We will be reviewing different aspects of both UWorld and AMBOSS such as the cost, features, similarity to USMLE style questions, and more to help you decide which is the best QBank for you!
AMBOSS vs. UWorld: Price
As of this writing, UWorld offers the following membership options for USMLE Step 1:

(A 720-day membership is also available for $719)
The AMBOSS model is slightly different. With AMBOSS, students pay for an annual membership which costs $14.99 per month ($8.25 per month if you pay annually). That includes unlimited access to AMBOSS library articles (think UpToDate, but for your board exams), Anki add-on and study tools, desktop and mobile apps, and high-resolution medical imaging with helpful instructional overlays. If you want QBank access, you'll pay extra, but you'll still save in comparison with UWorld. 
| | | |
| --- | --- | --- |
| | AMBOSS (+ annual fee) | UWorld |
| 1 month | $248 | $299 |
| 3 months | $288 | $399 |
| 6 months | $328 | $439 |
| 12 months | $398 | $539 |
As you can see, three months of UWorld will cost you as much as a year of AMBOSS! (And, as we'll explain below, the AMBOSS subscription comes with a lot of really desirable additional features.) When comparing AMBOSS vs. UWorld based on price, AMBOSS has got UWorld beat.
(Before comparing prices, you should check with your school to see if they offer any discounts on either of these QBanks. If they offer a substantial discount on one but not the other, it's probably just best to go with that one.)
Winner: AMBOSS
Analytics
Both UWorld and AMBOSS analyze your performance. In UWorld, you can access this analysis via the "Performance" tab on the left-hand side of the screen. (See here for advice on how to make the most of this analysis.) The "Overall" tab offers students familiar-looking graphs which track their overall progress–QBank score, QBank usage, percentile, et cetera–while "Graphs" offers a bird's-eye view of progress over time. The most helpful feature is "Performance." By opening this tab, navigating to "Topics," and ranking in ascending order by percentage incorrect, a student can identify individual topics (e.g., dilated cardiomyopathy, pulmonary hypertension, et cetera) that they are frequently missing questions on. 
At first glance, the AMBOSS analysis tab offers similar features: it prominently displays your total progress, percent correct, percentile relative to peers, and time per question. (The graphs that it shows even look similar to UWorld's.) Under "Study Recommendations," moreover, AMBOSS's "Articles" tab also offers specific areas for improvement. But unlike UWorld, AMBOSS actually prioritizes these topics for you based on (1) your performance and (2) their representation on USMLE Step 1.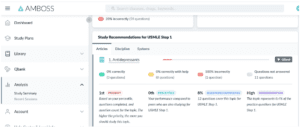 In the end, both platforms offer very similar performance analysis. Although the AMBOSS "Study Recommendations" feature is slightly more informative and approachable than the UWorld "Performance" feature, there's not enough daylight between the two to declare one platform the winner.
Winner: Tie
Additional Features
As we'll see below, UWorld's strength is its QBank, and it knows it. Although the UWorld website touts additional features such as "notes," "flashcards" and "in-depth explanations," these are really just extensions of the QBank. Beyond those things, UWorld doesn't really have any other features to speak of. 
AMBOSS, on the other hand, is a total platform. The baseline membership alone is a must-have for mobile and desktop access to the comprehensive library of hyperlinked explainer articles. These articles, which are extremely helpful and informative, come with neat features like a "high yield button" which condenses the article down to its most important takeaways. The articles will also highlight the details most relevant to the exam you're prepping for. 
Beyond that, AMBOSS also offers pre-designed "study plans" for USMLE Step 1, USMLE Step 2, USMLE Step 3, and clinical clerkships and subspecialties. (The clinical clerkship study plans are one area where AMBOSS really shines.) These study plans pair high-yield articles with relevant practice questions, and I am increasingly implementing these with my own students. 
Even when you get down to the level of individual questions, AMBOSS still has additional features to offer. On each question, for instance, you can press the "Key Info" tab to reveal highlighting under the most important details in the vignette. You can also ask for an "Attending Tip," which will give you a little extra information to try and help you get the question right. These features are particularly important for students who are not used to taking standardized, multiple-choice exams and are still honing their test-taking skills.
Finally, AMBOSS gives you more control over your question blocks. Not only can you choose how difficult your questions should be (questions are rated as 1 through 5 hammers, with 5 being the hardest), but you can search for questions on specific topics and make a block out of them. Inexplicably, UWorld still does not offer this feature in a straightforward way.
Winner: AMBOSS
AMBOSS vs. UWorld: Similarity to USMLE-style Questions
So far, AMBOSS has either tied or outperformed UWorld in each of the categories that we've examined. In some ways, however, this category–similarity to USMLE-style questions–is the most important of all. After all, if you wanted to become a great free throw shooter, you could read article after article about free throw shooting, watch videos on it, and do thousands of flash cards–or you could just shoot a bunch of free throws.
In this area, UWorld remains the gold standard. Although they are often longer than the average NBME question, UWorld questions do the best job of capturing the sound and style that you'll encounter on test day. They always contain all the information you need to answer the question, without necessarily giving things away. For students who just want to practice high-volume questions in a way that will prepare them best for their desired exam–no frills attached–UWorld still reigns supreme.
By comparison, AMBOSS questions are slightly less representative of the types of questions you are likely to see on your USMLE Step exams. They sometimes give up information a little more easily than a UWorld or NBME question would. In one question, for instance, a patient "says that he was diagnosed with a minor heart defect during childhood but does not remember the details and has not had regular medical follow-up examinations since." This feels too easy; UWorld would more likely include the detail about the heart defect in the patient's past medical history and place the detail about being lost to follow-up elsewhere so that the student has to work harder to connect them. 
None of that is to say that AMBOSS questions are bad. They're not; they're actually quite good. They just aren't as representative of what you'll see on test day as UWorld questions are. 
Winner: UWorld
Conclusion
Technically, AMBOSS wins our little AMBOSS vs. UWorld challenge. In the end, though, both UWorld and AMBOSS are excellent resources. I encourage my students to use both of them, and I would encourage you to consider doing the same. If you would prefer to choose just one, however, try the UWorld Demo and the AMBOSS 5-day free trial and go with the one you like best. You can't go wrong!
When making your choice, consider personalized tutoring. Our expert tutors can help you create an effective study plan, refine your test-taking strategy, and motivate you for success on your board exam.
Schedule your complimentary consultation today to discover how we can support you on your path to board exam success! Or, ask our tutors any and all of your USMLE questions on our newly created r/ask_a_USMLE_tutor subreddit! Join us now at r/ask_a_usmle_tutor!
Looking for a tailored Step 1 schedule? Consider checking out our 10-Week Step 1 schedule or our 5-week Step 1 schedule to kickstart your journey towards Step 1 success!