The Ultimate COMLEX Level 2 Study Plan
Complete the form to receive your study schedule via email.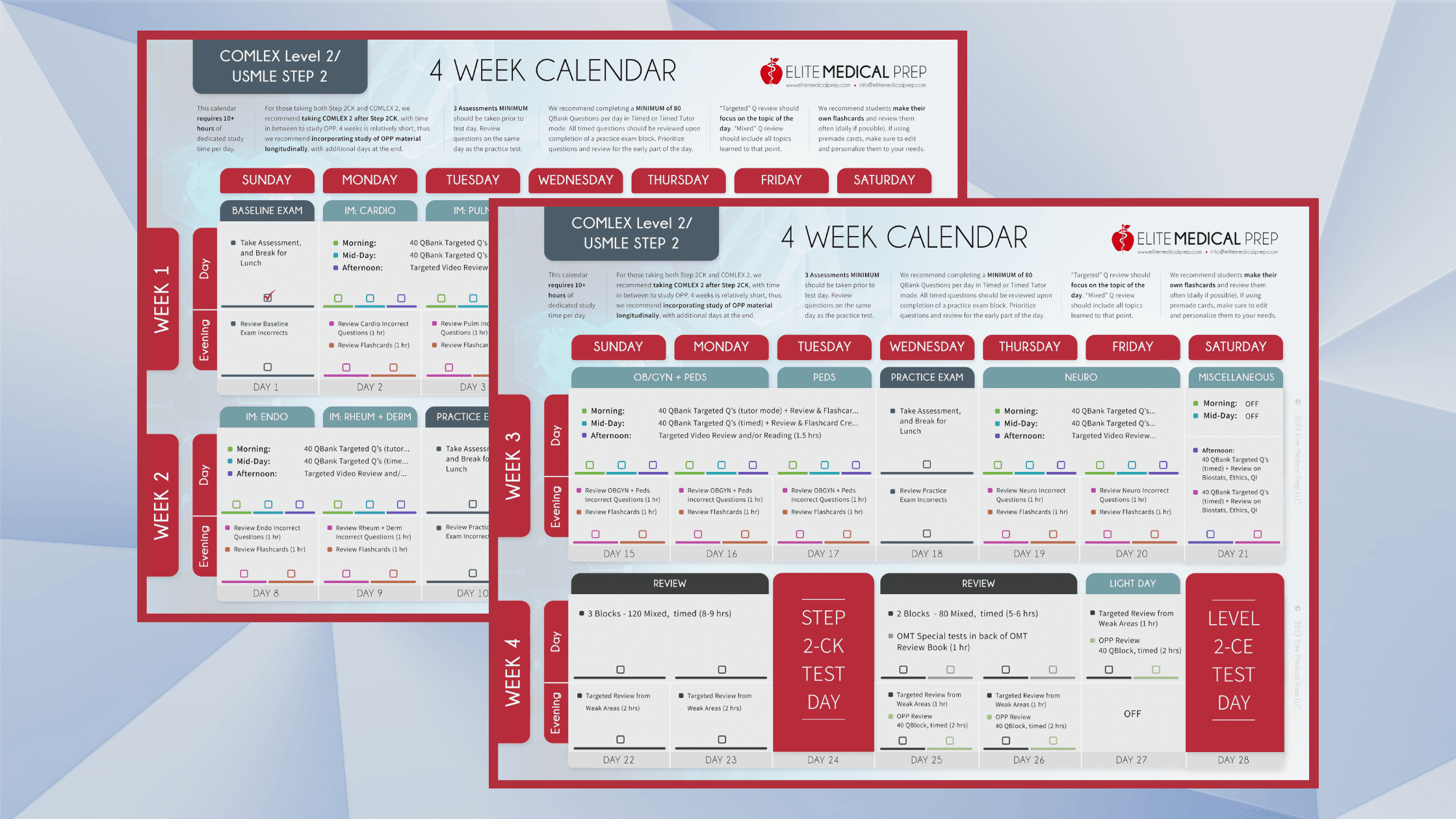 438 Views
With only 4 weeks left until your upcoming COMLEX Level 2 exam, it's time to get organized and crack down on studying. We've got you covered with our Ultimate COMLEX Level 2 Study Plan!
This study plan can serve as a perfect template and jumping-off point for you to customize based on your specific needs. It can be used as a COMLEX Level 2 study schedule alone, or to combine studying for the COMLEX Level 2 and the USMLE Step 2 at the same time. We recommend taking COMLEX Level 2 after Step 2 CK, with time in between to study for OPP, though some students may prefer to swap this order. For more information on which exam you should take first, read our post on the topic.
Edit the organ system you review on different days based on the weak areas discovered during your self-assessment or customize with your favorite resources. For instance, if you aced OB/Gyn and peds on your second self-assessment, but are still having trouble with cardio, consider doing just one block of peds and OB/Gyn on the following day in favor of another block of cardio.
Make sure you keep track of your practice exams and are seeing a steady trend of improvement throughout your study period. Suppose after your third practice exam on week 3 you still are not close to passing and have been plateauing or seeing irregular practice exam scores. In that case, it may be time to consider delaying your COMLEX Level 2 exam until you are better prepared.
Having a COMLEX Level 2 study plan is important to keeping yourself organized and on track while studying for your exam. For more help customizing your study plan, reviewing your incorrect questions on practice tests or QBank questions, or talking through challenging material, consider enlisting the help of a 1-on-1 COMLEX Level 2 tutor! Schedule your complimentary consultation today to learn more about how Elite Medical Prep can help you succeed!